Eurodollar (Rates) Options Big Lizard
Trade Idea:
EDZ 98.25 Calls – EDZ 98.125 Straddle (Big Lizard) 104 days to expiry, 36% Delta, -3.58 Z-Score (5-Years)

A big lizard involves selling a straddle then purchasing an out-of-the-money call.
This is a good structure to check currently as it's trading very cheap (5-Year lows), and potentially covers a lot of potential risks to trades. If you don't expect a decent sell-off here, variations of this are probably worth checking below.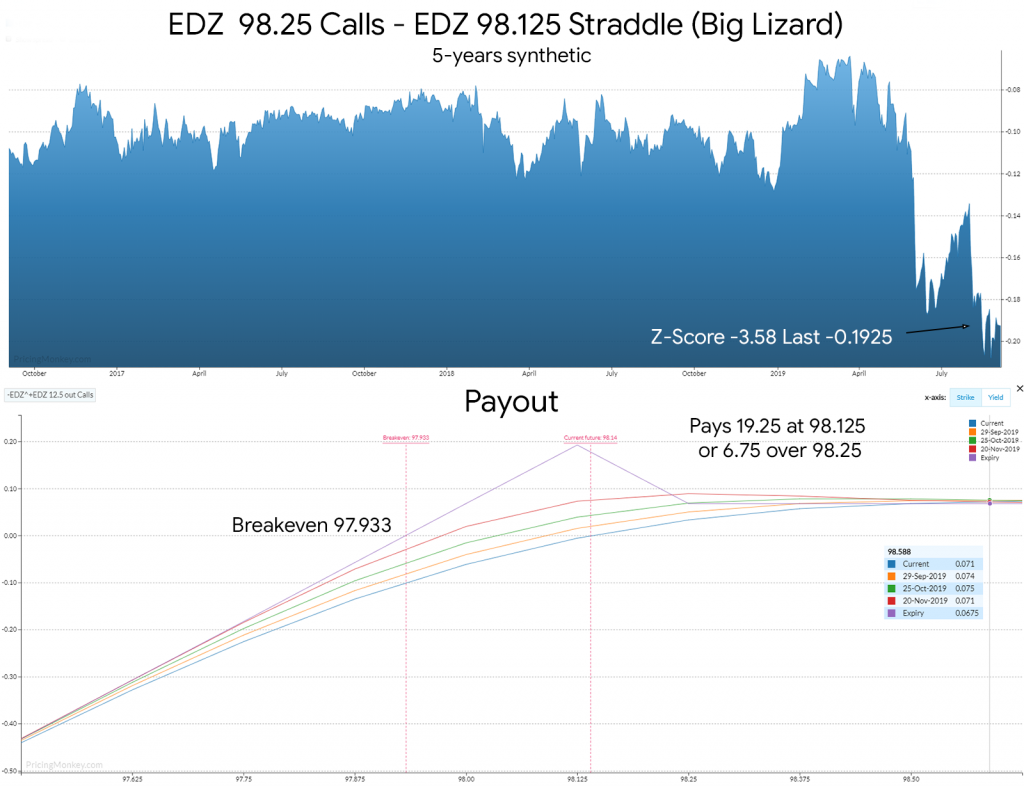 Trade Alternatives:

Variations of this are to sell a straddle to buy out the money call (Jade Lizard).
If you're bearish (someone must be) look at buying an out the money Put versus the short straddle (reserve Lizards).
Also look to moving the call strike higher, for example using the 98.375 Cals ( EDZ 98.375 Calls – EDZ 98.125 Straddle) moves the downside breakeven to 97.898, but opens you to a loss over 98.352 (-2.25 ticks). Certainly, plenty to play around with here at these Vol levels.
Just remember, this is a trade idea only and not investment advice. Do your own research and consider your risk tolerance. Know your risk.

Disclosure: We may have trading positions in the same or highly correlated trading structures.